Search Engine Optimisation
(SEO)
Why do small businesses need SEO?
If you are a small business owner with a website that shows up in the Google results when someone types in its name, you might think that you don't need to do any more SEO, but you'd be wrong for three reasons:
1. Small businesses want to be found on search engines by new customers — if these customers knew the name of your business they wouldn't be new.
2. The vast majority of searchers looking for products and services offered by small businesses tend to type in the products and services these small businesses offer, not their name. So unless your business can be found online for these terms you are missing out on the vast majority of potential customers.
3. Websites that rank on Google's first page get the majority of those potential customers — up to 92% of search traffic goes to the results on the first page of Google. So unless your business can be found on search engines in the top position for all the top terms customers use to find a business like yours in your area, you need to do more SEO.
What is SEO?
The first two letters of SEO stand for search engine: Google is the most well-known and used example of a search engine. In fact, excluding China, Google accounts for over 91% of the global search market. 5% of the remaining 9% of searches are done through Bing, Yahoo, and DuckDuckGo. Search engines are the reference libraries of our day, but rather than keeping copies of thousands of books, they know the location of the information from billions of websites, and they are capable of finding millions of results for anything you type into them. Every time you type a query into a search engine like Google, the search engine runs through all of the pages in its index to come up with the most relevant results.
The optimization part of SEO is all about securing the best possible position for your website and its content in the searches of the people who would be interested in your site, along with its products and services. This is achieved by sending search engines like Google the right ranking signals to ensure that your site appears as high up in the search results as possible.
Get your free keyword tracking tool now
How Google ranks organic search results
Google uses an algorithm to determine which order its unpaid results rank in. Google is constantly changing, upgrading, and updating this algorithm to improve the quality of the results it delivers. SEO is all about keeping up with these changes and offering Google everything it needs to give your site top rankings.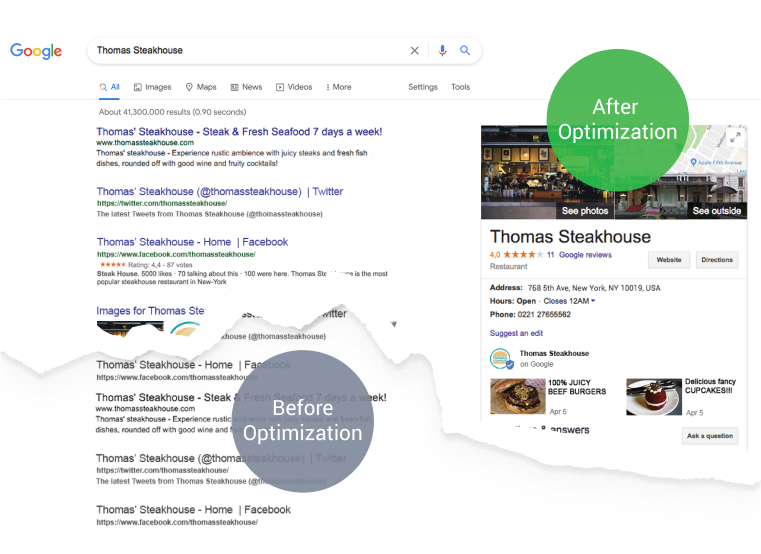 Google search results for Thomas Steakhouse before and after optimisation
How SEO Works
Top rankings on Google from SEO require effort in multiple areas. The first thing you need to do is make sure your website is set up correctly so that Google can find and index its content as quickly and easily as possible. We call this side of SEO technical SEO.
What is Technical SEO?
Making sure a site has the optimum technical setup for search engines to list its content favorably. Many aspects of this approach are about improving your site's functionality in two key areas: Crawlability and Indexability.
Crawlability: How easy it is for a search engine to access your website
Indexability: How difficult is it for search engines to find and list the relevant information on your site to match the terms of search queries
Another important area of Technical SEO is Mobile Accessibility (MA). This is all about delivering an experience of your website to visitors and search engines crawlers that are as least as good as the desktop experience you offer. Also note that your website should also offer a good browning experience on all major internet browsers, especially Mozilla, Google Chrome, and Safari. Sites not taking these factors into consideration could make a site inaccessible to large numbers of visitors using smartphones. This would have a direct impact on a site's search rankings and traffic. Other key areas of technical SEO include
Domain Name Optimization
Site code Optimization
Title tags and Heading Optimization
Pagespeed
Image Optimization
Why is technical SEO so important?
In the worst-case scenario: when your website doesn't meet Google's minimum technical requirements for indexing, it won't be listed on the results of search engines at all. This means no one will be able to find your website on search engines like Google.
Even if your site does rank, issues with technical SEO could be preventing it from getting top rankings. Improving your technical SEO will help you to improve your rankings as Google ranks pages that have good technical SEO higher. It will also help your newer pages quicker as better technical SEO makes it easier for Google to find and list your pages in search results more quickly. Improving key aspects of your site's technical SEO, such as page speed and mobile accessibility also makes your website more appealing to customers, which will also boost your rankings. Google monitors the response of searchers to the results they click on. If users stay on a website rather than clicking off immediately, Google perceives the user as enjoying your site and rates it as a good match for that search, boosting its rankings. If users enjoy using your website, they will also be more likely to buy from it, so improving your technical SEO can also improve sales.
SMB Tip
Due to the many factors involved in technical SEO, working on your site's technical SEO may seem daunting at first. What you need is a systematic audit of your website's technical SEO to identify its strengths and weaknesses and formulate a plan of action. Any small business owner can do this with the help of rankingCoach 360 which offers a seven-day free trial.
Get my FREE technical SEO audit now
SEO keywords
Once you have made sure that Google can find and list your site's content, you then need to make it appear in the searches which are the most likely to drive customers and visitors to your site. To do this, you need to find the words potential customers use when searching for your products and services or topics linked to them. In case you hadn't guessed, these words and phrases are called keywords.
Finding the best keywords for SEO
Finding the best keywords for SEO isn't as simple as picking the words with the most people searching for them. You need to do your keyword research. So, in addition to the number of people searching for a term you also need to take into consideration the competition and relevance of the keywords. In terms of competition: A front-page ranking with fewer searches is worth much more than a page 5 ranking for a search time with five times the volume. So make sure you target keywords that your website has a good chance of ranking for. Keyword tools like those found in rankingCoach FREE show you the keywords your website has a good chance of ranking for.
As for keyword relevance, you need to consider the quality of traffic that a search term delivers, bringing traffic to your website is only good if visitors stay on your pages and buy things. For instance, a site for a fashion designer in London may get many visitors for term 'handbags London' but may find that their store's products are premium quality that 'luxury handbags London' or 'designer handbags London' brings more kinds of visitors who are willing to pay the store's prices.
SMB Tip
Google does not make the exact number of searches for each term available to people on the search engine or Google Trends, but creators of keyword tools who pay Google a fee have access to this information. rankingCoach FREE has intuitive keyword tools that include this data, so you can find the perfect keywords for your business by striking the perfect balance between keyword search volume, competitiveness, and relevance.
Get the rankingCoach FREE SEO keyword tool now
Targeting keywords with SEO Content
Once you have found the right keywords to target you need to create pages for your website with these keywords in their content, so you have the best possible chance of ranking for these phrases. SEO content refers to any media – words, video or images that site visitors see and search engines like Google index and display in their results.
Content SEO refers to the development of content that aids in the high ranking of your web pages in search engines. It entails anything related to the creation and organization of content for your website. To create content that will help your website rank well, you must consider three major factors: keyword planning strategy, site layout, and copywriting.
Since search engines like Google read your site, the words you use on it decide if your portal will appear on the top of their results pages or not. Of course, your website should be well-designed, with a friendly and intuitive user interface, all of the technical aspects that help your site rank in Google should be taken care of as well.
On-page SEO VS Off-page SEO
Many SEO experts looking to come up with an effective SEO strategy chose to divide the different aspects of SEO into two key groups:
On-Page SEO
The process of refining web page content for search engines and users is known as on-page SEO (also sometimes referred to as "on-site SEO"). Adding Title tags, content, internal linking, and URLs are all popular on-page SEO practices.
Having said that, there's way more to on-page SEO than just stuffing keywords into the HTML code of your page that may include the following to better the outcome:
User experience
Bounce Rate and Dwelling Time
Intent of search
Page load speed
Click-through rate
Off-Page SEO
In general, off-page SEO refers to SEO activities for improving your rankings that do not directly involve your website. So changing content on your pages would be on-page SEO, but setting up a Google Business Profile to attract more visitors and send Google positive ranking signals would be Off-page SEO. Other Off-Page SEO activities include link building, social media, and local SEO. A big part of Off-page SEO is creating channels that drive traffic to your website.
On-page SEO is well complemented by off-page SEO. Both are intertwined. To get the best out of your SEO strategies, you should concentrate on link building, branding, and presentation. You can refine your site how you like, but if people don't think of it as an excellent place to visit, you are unlikely to succeed.
What Is Local SEO?
Many potential customers are searching for businesses and services near them on Google. Some of these results on the SERP are often displayed on Google maps.
These results are tailored to the user's specific needs and location with help of the searcher's IP address (desktop searchers) and geolocation (for smartphone searchers). So a tourist in New York Googling 'places to eat near time square' will see a SERP that looks like this.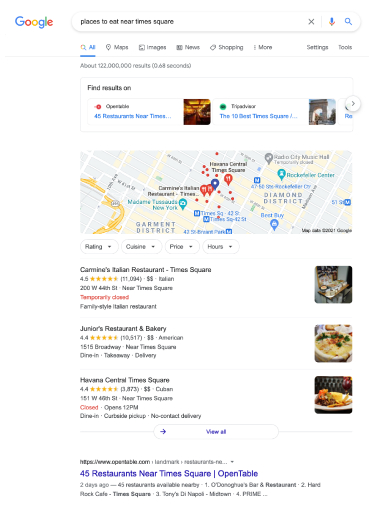 One of the first things the user sees is an online map with three featured businesses below it. This is called a Local Teaser Pack. The three businesses in this prime search location are there because of Local SEO. Like with SEO, Local SEO is all about convincing Google that your business offers the best answer or solution to the searcher's needs. The main difference between Local SEO and SEO is the greater emphasis on location and the Google algorithms greater interest in ranking factors such as online reviews or local directories. Google ranks businesses with good reviews and strong local directory profiles higher for Local SEO because these listings help search engines like Google to find and list businesses in its local results and because positive signals from previous customers like reviews are positive signs that other searchers will appreciate being shown this result.
SMB Tip
If you want your business to rank well in local searches you need to make sure your business's online review platform is well managed. rankingCoach FREE scans the internet for reviews of your businesses and tells you the moment someone reviews your businesses so you can grow and protect your business's online review profile.
Track and improve my reviews now
What is the SERP?
SERP is short for Search Engine Results Page; It is the page that Google shows users after they have typed in a search term and pressed enter. The SERP is Google's most important page. It is the portal from which searchers choose where to go. Every result on the SERP is competing for the user's clicks. Those businesses who get the clicks, get the customers. The results on the SERP that are there because of google SEO are called organic results. The results at the top of the SERP are there because they have the best SEO strategy: the right combination of keyword-optimized content, technical SEO, on-page and off-page SEO.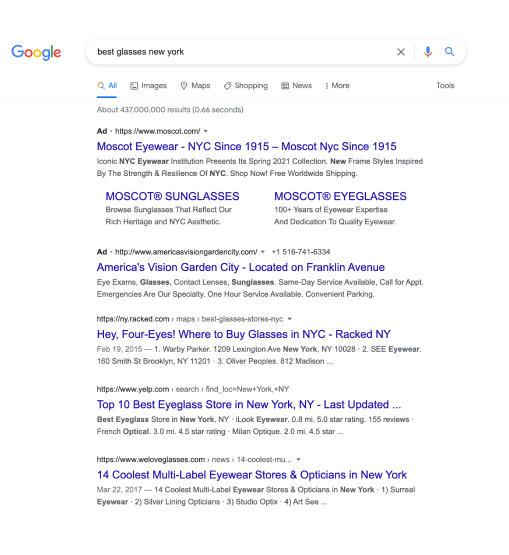 SMB Tip
Not all results on the SERP of search engines are there because of SEO. Some of the results have the words 'ad' written by them, these ads come from Search Engine Marketing (SEM). The paid results on Google's SERP are called Google Ads. If you are looking for quick visibility on search engines, Google's Ads are a good option that can be a great source of new customers.