Search Engine Marketing
(SEM)
Search engine marketing (SEM)
If you need quick online visibility on search engines for the key terms customers are using to find products and services in your area, SEM is the digital marketing channel for you. Read on to find out about how SEM can make your business more successful online.
Here is everything you need to know about SEM
What is SEM? What does SEM stand for?
SEM, (short for Search Engine Marketing), also known as SEA (short for Search Engine Advertising), is a form of paid digital marketing commonly found on all major search engines. Because Google is used for the vast majority of searches. The classic example of SEM is a Google Search Ad.
What is a Google Search Ad
With Google Search Ads, the digital marketer agrees to pay a fee to Google for being listed prominently in the search engine results for the terms being targeted. The fee for this ad is paid every time a searcher completes an action that has been pre-agreed between the marketer and the search engine — for instance clicking on the ad.
With Google Ads, providing the marketer pays the fee and enough searchers complete the action, the marketer is guaranteed a prime position in the search results. This allows marketers to solely focus on getting searchers to click on their ads. In terms of attracting clicks from the user, this gives Search Ads a big advantage over regular search results, because the owners of sites that have regular unpaid listings in the results cannot directly control what Google displays, and risks losing their rankings by making changes to the wording of content.
Why Paid Search Ads are effective
Paid advertising with SEM is based on the idea that if a user is searching for something on search engines, it's very likely that they will be interested in adverts that are strongly linked to this search term. This combination of search data and the ability to achieve quick visibility makes SEM an extremely effective way of precision targeting ads at the best possible audience and bringing many new customers to your business quickly.
Track in real-time
Ads performance for FREE
Example of SEM Ads
A standard Google Ad looks very similar to search result on the Google ranking page, except it has the words Ad written by it.
By paying the required fee for a Google Ad the digital marketer guarantees a prime position in the search results they are targeting. They only need to focus on making their listed ad as clickable as possible.
Marketers also have the option of different ads layouts that contain more information and can be more engaging than regular results. All these advantages make Google Ads and SEM a much quicker and easier way to attract many news customers to your site from search engines.
SMB Tip
You don't need a degree in Digital Marketing to launch Google ads that boost your profits. With marketing features like rankingCoach ads generate professionally optimized ads in just 3 clicks.
Get the pro Google Ads Generator now
Google Ads generator from rankingCoach
Ads from SEM, especially Google Ads, can appear in other places beyond the search results in the form of banner ads on the extended search network of sites associated with search engines.This is why you often find adverts on the sites you are browsing for things you have recently searched on search engines.
What is PPC? What does PPC stand For?
PPC is a major part of SEM: it is the most commonly known method of payment for SEM activities. PPC stands for Pay-Per-Click. It is an auction based model of SEM in which spots for ads are given to the winner of a virtual auction. This virtual auction process occurs every time someone completes a search which includes terms being targeted for ads. With PPC, unlike in the classic auctions we all know from the movies, the top bid doesn't always win with PPC, because Google only receives payment when users click on an ad, Google factors this Click-Through Rate (CTR) into its process for determining the best bid. As a lower bid that gets many clicks may pay more money overall because more people click on it. This is why optimizing PPC activities to maximize clicks is so crucial.
PPC Ads on Google are the most popular and well known form of SEM. It's important to note that PPC is not the only type of SEM. Other forms of SEM include:
Search campaigns

: simple text ads in the search results.

Display ads

: target customers with visual advertising on websites affiliated with Google.

Video ads

: Ads shown between video content on

Youtube

, or recommended.

Google shopping campaigns

: Promote specific products and services with appealing ads that focus their most appealing features and encourage targeted searchers to click on them.

App campaigns

: promote your mobile apps on many channels.

Local campaigns

: these are great for store and restaurant owners who want to attract potential customers searching in the local area. Especially if your business is on

Google Business Profile

and

Google Maps

.

Smart campaigns

: highlight key selling points of your business and attract customers
Local campaigns
So which option is right for you? If you are a small business owner, your first focus should be getting traffic to your website using classic Google Ads on the SERP. To maximize the profits you need to create professionally worded Ads.
SMB Tip:
Setting them up Google Ads for your business the first time may seem daunting, but easy-to-use features like rankingCoach Ads make it possible to generate and launch Google Ads that are proven to get results.
Get the pro Google Ads Generator now
Pro Tip:
To make sure you don't waste your marketing budget, use marketing features like rankingCoach Ads to set your budget and show exactly what you are getting for your money.
Get $75 of free Google Ads now
Secure your FREE Brand Watch App
to protect your business
The best way to do SEM
To get the best value for money out of SEM activities you need to make sure your ads are bringing traffic to your site that converts. For online store owners doing SEM, this means ensuring that enough of the customers who come to your website through SEM Ads buy something. Marketing experts refer to this as offering a good return on investment (ROI).
Finding the best keywords for SEM Ads
A big part of maximizing your profits from SEM is finding the best value keywords for your ads. You must make sure that your ads contain the best value keywords. First, you need to make sure your ads contain the words potential customers are using to find products and businesses like yours in your area. So that when they use these terms they see your ads. Because the price of each keyword is set by demand not effectiveness. You can save a lot of money by finding the keywords many people are searching but less people are targeting.
PRO Tip: Google Keyword Planner
One of the most well-known available free tools for keyword research is Google's keyword planner. It comes with some handy features such as:
Keyword suggestions, based on your business category or services you offer.
Stats about search volumes.
Ad costs estimates for your keywords, allowing you to plan your future campaign.
Create a plan and use it in your campaign.
While being free to use, it still requires a Google Ads account in order to access it.
SMB: rankingCoach Ads is a key feature in rankingCoach 360, it makes launching Google Ads that convert quicky easy to do.
Try rankingCoach Ads now
Maximizing the value of your SEM Ads
To really maximize the marketing value of SEM you also need to work on the wording and formatting of your ads, and make them as appealing as possible to your target audience. Doing this will maximize your profits — because once you have chosen the right keywords, the more people click on your ads, the more customers you get.
Optimizing your SEM Ads will also ensure that they get the best possible positioning on the Search Engine Results Page. Google awards top positioning to the top ads that pay it the most money overall not necessarily per click. If one of your competitor's ads are better optimized than yours and get twice as many clicks as yours, Google will display their ads more often and in better positions than yours until the amount extra you pay for clicks makes up for lower Click-Through Rate. This means optimizing your SEM ads to boost CTR can save money on your ad budget and boost your profits.
SMB Tip: Increasing the ad clickthrough rate or CTR for short.
SMB TIP: Getting the best value out your SEM is all about maximizing the conversions you get from your ad spend. To get this right you need to have the best keywords and to format and present your ads professionally. Anyone can do this in just three clicks with rankingCoach Ads.
rankingCoach Ads performance overview
FREE ADS monitoring App. Watch
your competitors performance
What is the benefit of SEM?
SEM is unlike any other digital marketing channel, allowing you to get your ads on the front page of Google' Search Engine Results Page (SERP), in front of people searching for the products and services you offer, within hours. This makes SEM an ideal marketing technique for anyone selling products in high demand, with a short shelf life, or that are only available at certain times of the year. SEM guarantees visibility on the SERP, and if you set up the right kinds of ads, it guarantees more traffic and customers.
SEM is also a great marketing activity to be done in combination with more long term oriented digital marketing strategies such as SEO which can take weeks and even months to have to take full effect. Websites starting out often struggle to get traffic organically. SEM can be a great way to boost a site's presence in those early stages.
Pro Tip:
Getting the best value out your SEM is all about maximizing the conversions you get from your ad spend. It's to remember that ads can bring the right customers to our website but they won't buy from it if it isn't appealing to the user. Be sure to also work on your site's UX for your site and maxmize conversions by optimizing your CTAs.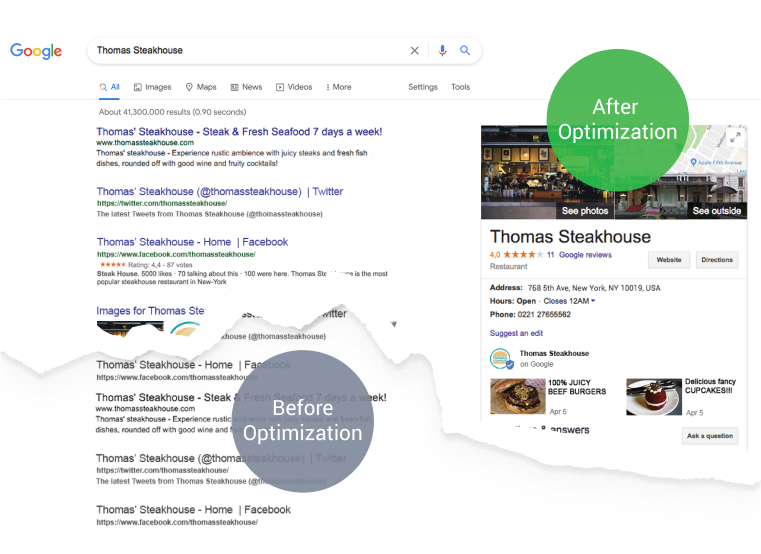 Google search results for Thomas Steakhouse before and after optimisation
Track your competitors Ads for free
What is the difference between SEO and SEM?
The biggest difference between SEO and SEM is how positioning of the marketer's listings for each of these channels is decided. The positioning of a site's result in SEO is decided by the Google algorithm which is always trying to find the best content for the user. This makes the primary focus of SEO: pleasing the user and showing search engines all the right signals to secure top rankings.
On the other hand the positioning of SEM listings, for instance Google Ads on the Google search engine is given to the winner of the virtual auctioning process. If a user types into Google: 'buy smartphone', they will be shown two types of results on the search engine results page.
The top result with word ads written by it won the Google Ads auction process. The other results, without the word ad written by them, are called organic results. The top organic results are there because of a good SEO strategy, meaning the owner of the site optimized their site and its content to persuade the Google algorithm that their page is the best result for the user's enquiry. The results on the Google SERP with the word 'Ad' written by them come from SEM. As you have seen these ads can offer a quick and well targeted boost in site visitors and profits.
PRO Tip: Try SEM before doing SEO
If you are looking to work on your website's Search Engine Optimization with easy to follow step-by-step video tutorials and keyword tools.
Try rankingCoach 360 now
Protect your
business online visibility for free!